The Literature Muse Unauthorized Bio
-would I lie to you?-

Vital Statistics
April 29, 1974 - the Literature Muse is born in East Stroudsburg, PA. There is much rejoicing.
1977 - Reads first book without the help of parents.

1979 - Starts kindergarten in Klamath Falls, OR.
1980-84 - Attends elementary school in San Jose, Redding, and Manzanita. Likes English. Hates Math.
1984 - Admitted to the Johns Hopkins program for gifted students. Is unable to attend any of the seminars or classes due to "financial constraints".
1984-87 - Attends middle school in San Jose, Campbell, and Fresno.
1987-91 - Attends high school in Felton. Likes English. Hates Math.
1991 - Takes proficiency test. Is horrified by how easy it is. Passes.
1991-93 - Attends Cabrillo College in Aptos. Drops English class because teacher, in his own words, "can't spell".
1993 - Meets the Evil Ex.
1994 - Moves to Bellingham, WA. Stays there for four years. Isn't sure why.
1998 - Moves back to California. Finds magical library card buried beneath a pile of old books. Acquires mystical powers of divination and proper grammar. Adopts the name "The Literature Muse".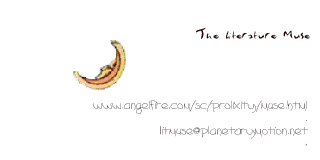 Things the Literature Muse wishes she'd said
Affirmation: